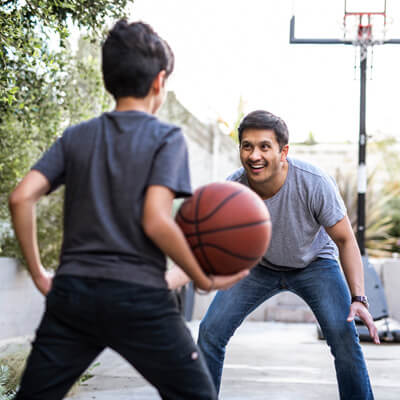 Sports Chiropractic at
Family First Chiropractic and Wellness Center, LLC
Of course we'll treat you if you're hurt! But at Family First Chiropractic and Wellness Center, LLC, we don't want to wait until you're injured – our goal is to help athletes achieve peak performance so you can avoid being injured in the first place.
Better Performance
Research shows that athletes at all levels who receive regular chiropractic care can expect a measurable increase in performance. We want to help you play your absolute best, while decreasing the risk of injury, whether you're a Little League player, a college athlete or a weekend warrior.
Sports put significant demands on the body – feet, ankles, knees, shoulders, elbows, wrists, and the back all can take a beating playing sports, and are all prone to injury. Making chiropractic care an integral part of your athletic training helps improve performance and prevent injuries by maintaining alignment, which reduces wear and tear in the joints that can lead to injuries.
Care Tailored for You
Dr. Carpenter will take your complete health history and talk to you about your current athletic activities and any injuries. Then he'll conduct a thorough exam, including orthopedic, neurologic and range of motion tests, and, if needed, X-rays, so he can design a treatment plan tailored to your goals and needs.
If you've been injured, he'll ask you to bring any X-rays taken at your ER or Urgent Care visit, so he can include those in his assessment of your condition as well. As with all patients, Dr. Carpenter will review his findings with you and begin treatment at your second visit.
In addition to our chiropractic techniques, many of our sports patients also receive the following:
Low-level Laser
Kinesio® Taping
Electrical stimulation (E-stim)
Improve Your Athletic Performance Today
Whether you've been injured or are taking a proactive approach to your athletic performance, Dr. Carpenter's goal is to help improve your game – along with your overall health and wellbeing – for the rest of your life.
Contact us today to find out how chiropractic care can help you take your game to the next level!
CONTACT US
---
Sports Chiropractor Farmington NM | (505) 564-2225