New Patients at Family First Chiropractic and Wellness Center, LLC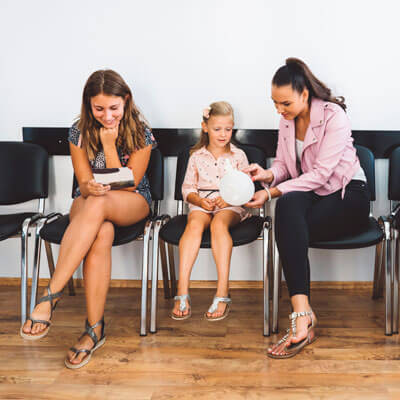 From the first time you contact Family First Chiropractic and Wellness Center, LLC, you'll be treated like family. Our staff will chat and get to know you, and we'll send a link or you can click here to complete your new patient paperwork in a relaxed setting at home.
Detecting the Problem
When you arrive, we'll greet you and show you a new patient video. We'll also make copies of your ID and insurance card, so be sure to bring those!
Then you'll see Dr. Carpenter, who will ask about your current symptoms and delve deeper into your complete health history to help detect issues that might be contributing to your pain. He'll conduct a thorough exam, which will include orthopedic, neurologic and range of motion tests to pinpoint what's going on. If X-rays are needed, we will do those on-site. Dr. Carpenter will explain everything to you throughout this entire process, which usually takes 45 minutes to an hour.
We typically don't adjust you at the first visit, because we take time to review your tests so that we have an accurate assessment of your situation before we render treatment. The doctor will study the results of the tests to determine if chiropractic can help you, and to design a precise, individualized treatment plan.
Correcting the Problem
Dr. Carpenter will share his findings with you at your second appointment, explaining everything in detail, even showing you your X-rays, so you understand what's causing your pain and what it will take to correct it. Then you'll meet with the staff to discuss the costs, insurance, and scheduling. Once that's taken care of, you'll receive your first adjustment.
We Want to Help You
We do everything we can to make it as easy as possible for you to get the care you need:
We accept Medicare, CareCredit, HSAs and most insurance
We accept all major credit cards
We talk to you about your personal schedule, so we can reserve appointment times that are convenient for you and your family
Contact us today to schedule your first appointment and get started on your journey to overall wellness.
CONTACT US
---
New Patients at Family First Chiropractic and Wellness Center, LLC | (505) 564-2225